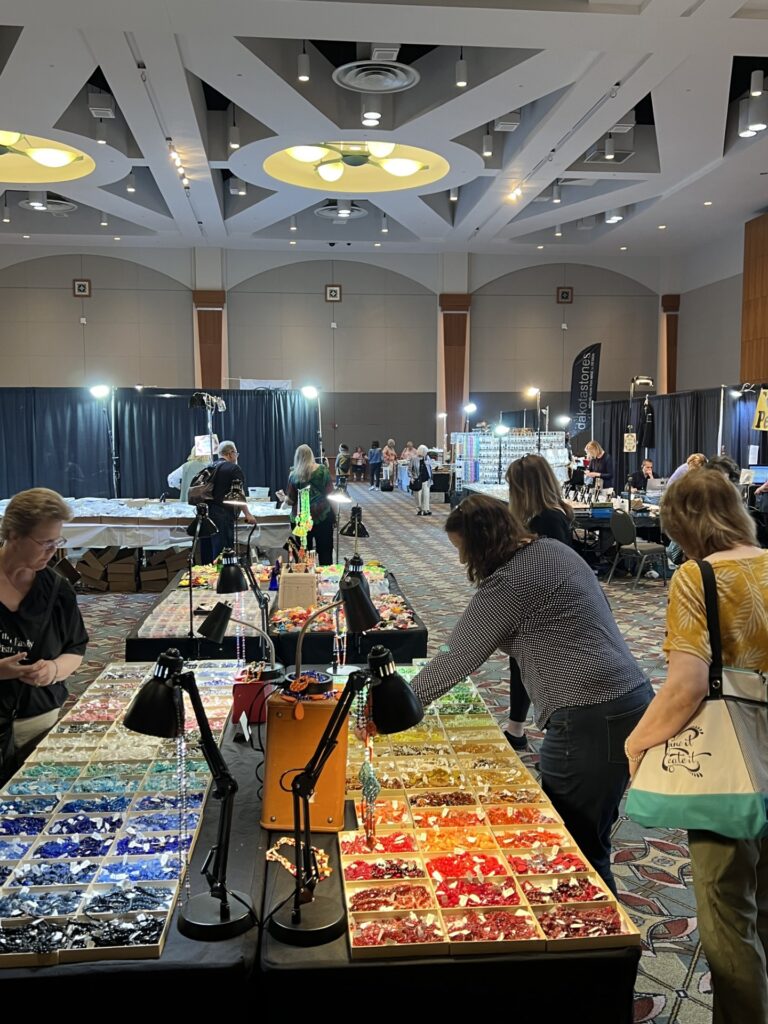 May 9-11, 2024
Thursday & Friday 10am-6pm, Saturday 10am-4pm
Wisconsin Center
S201 + S202 (2nd Floor)
400 W Wisconsin Avenue
Milwaukee WI 53203
---
BUYING AT THE SHOW
This show is open to the general public. No pre-registration is required or offered.
WHOLESALE – Bring a copy of your state-issued resale license to purchase as a wholesale buyer.
ADMISSION
$10 cash/$12 credit per day
ROOM BLOCK May 8-11, 2024
Hilton Milwaukee City Center
509 W Wisconsin Avenue
(414) 935-5940
Reference The Whole Bead Show to get the nightly room rate of $199+tax
---
---
EXHIBITORS

| Company | Product |
| --- | --- |
| Ava Motherwell Collection | Buttons, Chain, Clasps, Findings, Glass Beads, Handmade Glass, Jewelry, Lampwork, Pendants, Vintage, Wholesale Discounts |
| Blue Heron Bead Company | Glass Beads, Jewelry, Vintage, Wholesale Discounts |
| Blue Rock LLC | |
| Many Hands Marketplace | Beads and artisan jewelry. Creating and sharing connections that only something made by hand can make someone feel. Make unique and meaningful jewelry with us! |
| Mary Ila Duntemann | Lampwork |
| Yayin Glassworks | Handmade Glass, Lampwork, Wholesale Discounts |
*SUBJECT TO CHANGE
ATTENTION
The Whole Bead Show Inc/Bead Renaissance Shows dates and locations may change without notice (due to unforeseen circumstances). We are not responsible for any expenses incurred due to change of schedule.